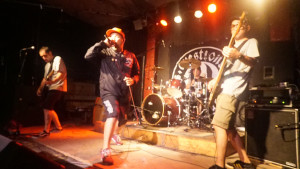 Questions is a hardcore band from São Paulo, Brazil. They are one of the best and most famous hardcore bands from South America. Founded in 2000, Questions became an expression for
energetic old school hardcore in a very short period of time. Questions shared stage with bands like Sepultura, Agnostic Front, Sick of it All, Madball, H2O, Shelter, Caliban, Terror, Born From Pain, Most Precious Blood, Tackleberry, Ratos de Porão, Cavalera Conspiracy and My Turn.
2015 Questions released their Album "Pushed Out … of Society" in Europe on toanol records.