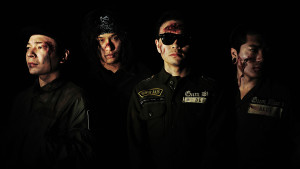 Gum Bleed / 牙龈出血was formed in the summer of 2006. With their energetic live performances and their intelligent lyrics combined with fast and catchy music, they had quickly become famous in the Chinese punk rock scene and are now ready to increase their status in the rest of the world.
Their music includes styles such as Punk, Rock, Hardcore, Metal, Thrash etc.. They released: 1978 sucks (EP CD 2008), Balefire Juvenile (Album CD 2009), No war but Class war (EP CD 2010), Fuck Society (7" Vinyl 2010), Kiss me I'm punk (10" Vinyl 2012), "City of the Heroes" (Album CD 2014).

When you listen to their music, it probably reminds you of The Clash, Black Flag, Rancid, The Casualties and even a bit of Joy Division etc. Used to be called the best street punk band from China, the boys are quite good at mixing different kinds of music with their punk rock roots now, creating their own distinctive sound.
After years of touring China, playing at most of the rock venues and big festivals in their country, they began to go abroad and toured Europe three times (2009, 2011, 2012).

They played festivals such like: Putala Rock Festival (Finland, 2009), Force Attack Festival (Germany, 2012) and Days of Fury Fest (Denmark, 2012);
and venues like: Cortina Bob (Berlin, DE), Rote Flora (Hamburg, DE), Ak47 (Dusseldorf, DE), Modra Vopice (Prague, CZ, Ungdomshuset (Copenhagen, DK), 1000fryd (Aalborg, DK), La Miroiterie (Paris, FR) …
Interesed in Chinese punks, politics or pure hardcore music? Come over and watch Gum Bleed!
In 2016 Gum Bleed will be on Tour in Europe again and their album "City of the Heroes" will be rereleased by toanaol records.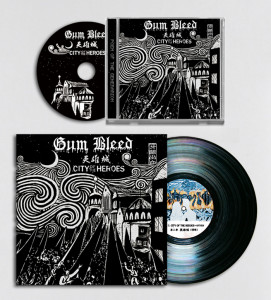 Tourdates 2016: http://toanol-records.com/wordpress/language/en/gum-bleed-牙龈出血-chn-beijing-european-tour-2016/