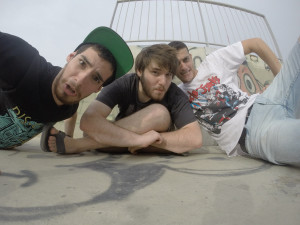 Copout is a punk band from Tel Aviv-Yafo.
Copout was founded in in the end of 2014 by Omer Kimhi (Bass), Uri Hertzwolf (Guitar) and Nir Schlezinger (Drums) after the band "Fourfuznies", they were all members in, broke. The three punk rockers that used to play pop punk, wanted to do somthing faster and louder- and so Copout was founded. Copout started playing through 2015 and after a while the guys decided to record one song for a compilation that was suppose to come out (and never did).
Around March Copout went to the "Koro" (israeli punk venue) to record that one song, and somehow ended up with four songs recorded that day. They then realised, "Oh snap! Four more songs and we got ourselves a decent EP"- And "Spray Paint" came to life. Copout finshed recording the rest of Spray Paint in October.
"Spray Paint" will be released by tonaol records in spring 2016. Copout will play some shows in Germany and Czech Republic in April/May 2016.